Our pet likes to be fed on a schedule. But that schedule doesn't always match your to-do list. Make sure your pet is fed automatically and have one less thing on your list, provide an interesting and better quality of living for your pet with WOPET! We believe the best nutrition for your pet is personalized. The automatic pet feeder F03 will help you manage feeding times, portion sizes, proper ingredients.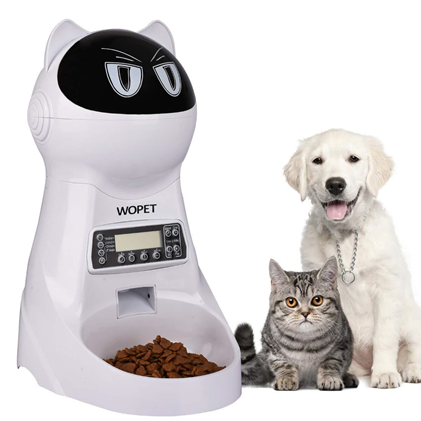 WOPET Automatic Cat Feeder F03—4 Meal
The Pet Feeder provide flexible amount from 1 to 39 portions per meal, 5g for 1 portion, allows to give 4 meals a day, you can set the food amount by the control panel.
Built-in voice recorder and speaker, this automatic cat feeder can record your voice for 10 seconds to call your puppy or kitty for meals. Your personal sound will keep your pet not alone.
Built-in IR Detector: For your pet's happy meal time, the IR detector will have the right angle to prevent the pet food from clogging or overflow. Just be aware that the size of the dry food should not exceed 1 cm3.
Two ways of power supply.If do not want to use power adaptor,you can change to install batteries(3 new"D" cell,alkaline batteries,Not included).If there is a power outage,the battery backup power enables your timed feedings to continue.
Customizable Feeder Great for Dogs, Cats and Small Animals of Various Sizes.Provide a interesting living for your pet with our pet feeder!24-hour professional service center, full refund within 30 days, 12 months warranty and 24/7/365 technical support.
Specifications:
Material: High quality ABS,environmentally friendly
Input: AC 100 to 240 V
Output: 5 V / 0.2 A
Capacity:2.5L;
Feeding Times:4 meal(breakfast,launch,dinner and 4th meal);
Portion Control:1-39 portion control;
Voice record:10 second
Power Supply:batteries or adapter;
Infrared Induction:To prevent the food spilling or jam;
Timer Programmable:Feeding your pet at scheduled times and keeping your pet healthy;
Jason Williamson: Absolutely love this!! I have a "fat" cat and this works great to measure his food and know he is only being feed twice a day. We usally feed him whenever he meows for food this allows us to manually hit a button and feed him just a little before his next feeding. It was easy to set up and readjust times and meals. It has four feeding schedules and is all labeled which is great! Love that it comes with plug in or can run on batteries.
Stefanie R.: I have a very persistent cat and a chihuahua who likes to steal cat food. Many times I wonder if my cat gets food during the day because the dog prefers her food.Sometimes I work late as well. I do leave food out but it's usually gobbled up by the dog early in the morning.
This feeder has some really cool features. You can adjust the portion size and the way my cat (and dog) eat you would need way more than what their single portion measures. The portion sizing could definitely be improved however I can see where it's helpful to give the option to go up to 39 portions. I started out with 8 portions and then up to 10. I like that you can dispense multiple times a day, up to 4 times total. The voice recording is a little weird, but hey I love my creatures, so I tried it and it's a cute feature. My cat looked at me like I was crazy, but she loved the food coming out of it and had no issue using it. It's a cute design and easy to use and put together so I would definitely recommend it to my cat loving friends.
My cats started eating from it almost immediately, so getting them to accept it was not an issue. Whether this is the automatic feeder for you depends on your budget and the features you want.
Briggs: This product is easy to set up and use. The clock goes by military time you can set it for breakfast, lunch, dinner and snack. Voice recorder is a great addition my kitty comes running everytime. They have many different types of services to fit any pets size. I love it!
Alisha F.: I am so happy I found this automatic pet feeder. Its my kids job to make sure dog has food in his bowl. So this makes it so much nicer all they have to do is fill up the feeder once a day. Saves me from having it pick up dumped dog food from missing the dog bowl a couple times or more a day.. It works great!
Conclution
WOPET automatic feeder is great! The recording feature is cool because you can call your pet with it when it dispenses the food. This is a very aesthetically appealing pet feeder. This would be great for anyone who travels a lot or even someone who works long or unusual hours and doesn't want to make their pet eat at crazy hours. I tested it with cereal before pet food, and it was funny, my toddler was excited and I may have found another great use for it when not on vacation! For those moms whose little kids wake before the sun demanding